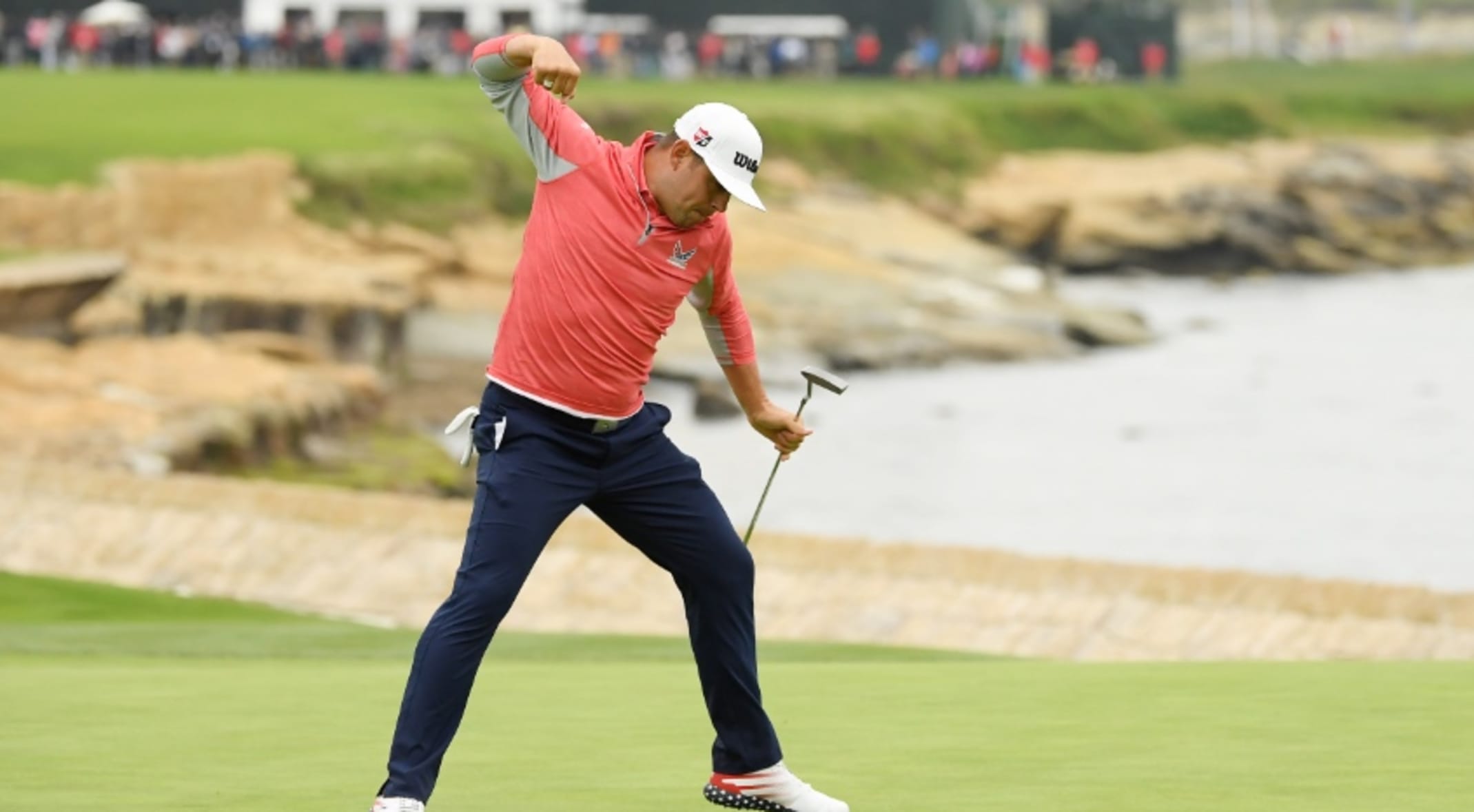 Gary Woodland gained his maiden Major victory at the 2019 US Open at Pebble Beach.  The iconic Monterey golf course which played host to heroic wins by Nicklaus (1972), Watson (1982) and Woods (2000) has more recently crowned first time Major winners McDowell (2010) and Woodland this year (2019).
The stirring finish by Woodland on the 17th and 18th greens was well received by fans and commentators alike.  However, discerning golf viewers might be forgiven for concluding that this US Open did not quite live up to the billing!
As compelling as the landscape is at Pebble, and as vivid are the images of Nicklaus and Watson winning in previous Opens, Pebble Beach these days seems to underwhelm rather than inspire the world's best players.  Just 3 players contended the lead over the final 36 holes.
Gary Woodland's game plan on Sunday involved hitting a total of just 6 drivers on 2, 9, 10, 11, 13 & 14, freewheeling home with irons off the tee from holes 15-18.
This conservative course strategy is not only explained by the relatively short length of Pebble Beach within the modern game, but also by the staccato course layout, defending against top players' usual rhythm and performance.
The challenge at Pebble's US Open began for players at the one-sided Driving range, which faced into a left to right wind all week!  Brookes Koepka's coach Claude Harmon conceded that his player decided against spending time on the range to protect against a developing slice!
Hole No.1 tested any such swing flaws with a left to right dog-leg, not long enough to justify more than an iron off the tee and not challenging enough to provide the players with satisfaction for scoring a par or better.  Anyone could make 4 here, immediately targeting the ego of world's best players.
Onwards to Hole-2, a 520 yard Par-4 which tempted Rory to take driver in search of early gains on Sunday, resulting in double bogey to relegate him from Championship leaderboard.  Early frustration.
The 3rd offers little respite towards comfort, with a blind tee-shot over trees to a dog-leg left fairway.  A long iron or hybrid would leave a too long second shot, and driver brings bunkers and heavy rough into play.  "What's the play Caddie?", "Whatever you feel will work best" might be offered in reply.  The close bond between caddies and modern golfers stressed early on at Pebble.  Caddies returned to their bag carrying duties.
Three gnawing holes in and the 4th presents light relief with a birdie opportunity.  A short par-4, driveable, except with the Pacific on the right and cabbage left.  "What's the play Caddie?", "Whatever works for you boss".  Not the golf course for "caddie-dependants".  Decision time again early doors.
Most risk-reward holes on the PGA Tour are located on the back nine, when the players can assess how they are playing and where they stand on the leaderboard.   One "make or break" hole towards the end of the round within reach of the comforts and security of the clubhouse.  At Pebble there are 3 risk-reward holes within the first 6 holes, pressurising game plans from the get-go.
Onwards to No.5, a 180-yard par-3 towards the water that should be hit with a low power fade to evade the wind but land softly.   The rough bank on the left offers a bailout for the double cross and is preferred to the pot bunker short right.   Take a par or bogey, breathe in and out, and steer your player towards No. 6.
The 6th is a reachable Par-5 with a cliff face to the right.  The views are scenic like driving through alpine serpentines and mountain passes.  Spectacular, but also hair-raising for those behind the wheel.  It takes the remainder of the journey just to recover from subconscious thoughts of disasters avoided.  Woodland on Sunday went with iron, 3-wood and pitch.  2 putts later and another steady par in the bank offered good time to question if the strategy could have been more hawkish.  Really looking forward to attacking this course sometime soon.
What now Caddie? "A sandwedge 98-yards downhill to a rock hard 7th green.  Don't go over, and don't get too clever on the front either".  Par or birdie, at least that kiddie hole is over.  Where do the ladies tee from?
The 8th also features a cliff, just 240 yards from the tee in the centre of the fairway, although with a possible 30-yard roll-out to the beach from 210.  "Give me a 5-iron… or better make it a 6-iron to be sure.  What do you think Caddie?"…"Yes, but don't be too far back.. it'll be 200 plus to the green and that's not good here".  Justin Rose roared "roll-out" after his 6-iron tee-shot stuck at the top of the fairway on Sunday before snatching at a 7-iron second to miss the green short right. Pebble slowly crushing.
The 9th is finally a chance to send it out there again.  Woodland accepted the challenge on Sunday but being mindful also of the ocean on the right, snap-hooked it left and got lucky to bogey-finish his first nine.  Could easily have been a double or more. The approach shot is usually on a downhill lie.  Brookes pushed right to bogey.  Not exactly "fun-land" until now, and more of the same to follow on the back nine stagger towards glory.
The Pebble layout is generally joyless for today's players, other than being associated with a dreamlike nod to past winners.  McIIroy looked beaten approaching the first tee on Sunday as noted by Greg Allen, golf correspondent from Irish Radio/TV.  Patrick Reed snapped his chipper on Thursday.  The strategy employed by Woodland throughout the tournament could not have filled his heart with anything more than a quiet satisfaction for maintaining military discipline.

Pebble Beach is primarily a mental test for the world's best players.  Can they maintain focus and will in the face of time honored demands and challenges?
And as SKY TV pundit Paul McGinley forecast at the beginning of the week, some players, McIlory included, struggle with this form of examination paper.   Justin Rose too could be questioned for the satisfaction that he was taking by leading on Thursday, and also from his fun back nine jostle with Woodland on Saturday, distracting possibly from the golf course conflict awaiting on Sunday. Rose admitted post tournament that his mindset went missing on Sunday afternoon.
As Woodland recounted in his press conference, it is paramount to control attitude, come what may. Don't let your guard down until the tournament is done.  Woodland coach Pete Cowan offered to his player that "All men die but not all men live" before the final round.  Woodland also called on his experience this year in Scottsdale with downs syndrome golfer Amy Bockerstette who's catchphase, "I've got this" stuck with Woodland throughout his week.
The USGA should be commended for presenting a traditional golf course with fair but challenging conditions.  If the leading players can once again look forward to the unique challenges that such layouts bring, golf fans can also look foward to savouring more blanket finishes to inspire the world's best to new heights.